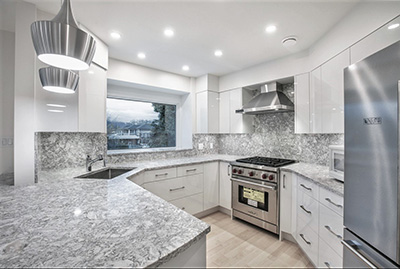 From the simplest paint job to a major kitchen renovation, there are many ways you can refresh your kitchen that can fit into almost any budget.  As the kitchen is a key room in the home, it is also one of the most frequently renovated; and yet, coming up with kitchen renovation ideas can be challenging – especially if you are on a tight budget.  Thankfully, the following kitchen renovation ideas feature updates that can be easily adapted for cost savings; alternatively, you can also adapt these renovations to the luxury end of the budget scale. 
Kitchen Cabinets
Kitchen cabinet renovations make a mark.  Indeed, of all our kitchen renovation ideas, new cabinets are likely to make the biggest difference by revitalizing the look of your kitchen but also by improving functionality.  Additionally, updated kitchen cabinets will have a huge impact on the resale value of your home.  Nevertheless, cabinets can be expensive, so if you're looking to save money consider keeping or reusing old cabinets.  A little bit of elbow grease and a new coat of paint can brighten up your kitchen – and if you add new hardware, you'll hardly recognize your old cabinets.  If you're less concerned about budget, consider consulting with a kitchen design expert to reconfigure the layout of your cabinets to make your space more efficient.  There are even new cabinet designs that improve storage and functionality that make a great long term investment.
Countertops
Natural stone countertops are expensive but they are durable, sophisticated, and elegant. If you can work granite or quartz countertops into your budget, you won't be disappointed as they require little maintenance and resist heat, stains, water, and bacteria. That being said, laminate countertops are great for the budget and they're available in many different styles, colours, and patterns.
Appliances
The upfront costs of new appliances can be a deterrent for some home owners looking for low cost kitchen renovation ideas, but it's also important to consider the long-term energy savings of high efficiency appliances. A new energy efficient refrigerator and dishwasher can save you hundreds of dollars in electricity bills over the years which means they pay for themselves. Plus, new appliances are offered in an impressive array of colours and finishes and they can make an impressive impact on the aesthetic of your new kitchen.
Lighting
Upgrading the lighting in your kitchen gives you flexibility over how and where light is focused. Ultimately, layering lighting so that you have decent ambient lighting as well as task lighting allows you to illuminate your kitchen according to your needs. If you're already updating cabinets and countertops, consider installing task lighting under cabinets. Also, consider decorative lighting to add aesthetic appeal – chandeliers and pendant lights are great choices for sophisticated designs, or for a contemporary look consider directional spot lights or pot lights.
Remember, your kitchen renovation should reflect not only your budget but your personal style as well as practical elements related to how you use your kitchen. With careful planning and research, you can achieve an impressive upgrade to your kitchen on any budget.