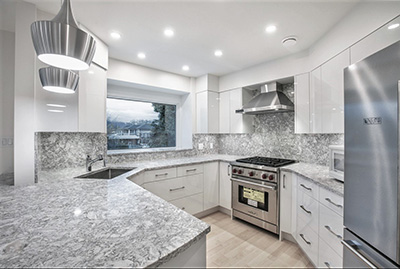 A kitchen renovation can revitalize your home. As one of the most important rooms in your home, the kitchen is a place where families and their friends come together. From daily meal preparations and dinner parties to homework time at the kitchen table, a bright and pleasing kitchen can have a huge impact on your day. So, whether you are considering renovating your kitchen because its style is outdated or its fixtures and features are showing signs of aging, you probably have a lot of questions about kitchen renovation costs in Vancouver. Let's take some time to address those questions.
First, it's important to understand that kitchen renovation costs can vary widely from one home to another. In fact, kitchen renovation costs are impacted by a wide variety of factors from the costs of labour in Vancouver to the materials you use and will even depend on the size and scope of your project. For these reasons, it is vital that you clearly plan every step of your kitchen renovation. Start with a checklist of what you need to do – some renovations include a complete overhaul of cabinets, appliances, flooring and lighting while others are simple and may feature minor upgrades like new paint and a backsplash. Ask yourself the following questions before you start budgeting for your renovation:
Can I salvage any materials or appliances from my current kitchen?
What are my "must-haves" and where can I compromise if necessary?
Where will my family stay during the kitchen renovation, and how will we prepare and store food?
Am I going to do the renovation on my own or will I need to hire a contractor?
Ultimately, once you have a clearer picture of the type of renovation you're doing, you can start to organize your budget and plan the details of your renovation. Remember, renovation costs can add up quickly, particularly in Vancouver where an active housing market often translates to increased labour costs. On average, a kitchen renovation in Vancouver costs around $50,000 with high-end kitchen renovations easily exceeding $70,000. If you start considering elements such as custom cabinetry, stainless steel appliances, marble or granite countertops, you'll notice your renovation costs rise very quickly.
If you want to maintain a tighter budget for your kitchen renovation, there are ways to keep your costs in check. Maintaining affordable kitchen renovation costs in Vancouver doesn't need to be difficult – consider the current features of your kitchen and try to reuse as much as possible. Keeping the same layout in your kitchen can also help you manage costs, as can refurbishing your current cabinets. Another tip is laminate flooring or countertops which can still be very attractive and bring new life to your kitchen.