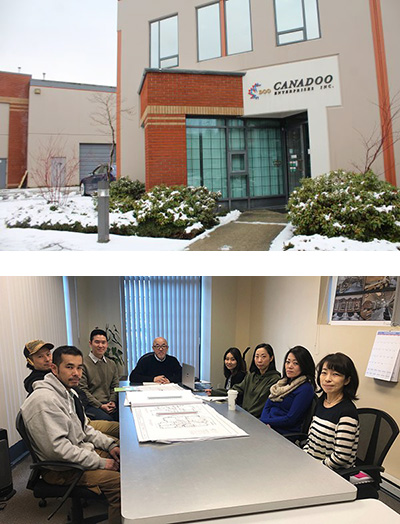 Vancouver renovation company, CANADOO ENTERPRISES INC., has been in business since 1995. We started as an exporter of Canadian lumber, housing products, and packaged houses to the Japanese market and serviced numerous clients throughout Japan as a BC-owned company. By 1998, CANADOO's business greatly evolved and we started specializing in the filed of general contracting and renovation for both residential and commercial projects in Vancouver.
Canadoo Enterprises Inc. is a renovation company that has been serving the Vancouver area since 1995. With humble beginnings as an exporter of Canadian lumber, housing products, and packaged houses to Japan, our business eventually evolved into a world-class general contracting and renovation company. With expertise in both residential and commercial renovation projects, Canadoo strives to deliver quality renovation services with pride and integrity.
As evidence of our commitment to unparalleled service and quality, we are a member of the Greater Vancouver Home Builder's Association and the Better Business Bureau. Additionally, we are a certified renovation company with certifications in both commercial and residential building. Through these memberships and certifications, we ensure we maintain the highest levels of training and knowledge in our industry, and we demonstrate a commitment to utilizing the most recent trends and technology in our building practices.
At Canadoo Enterprises Inc. our primary goal is to transform our clients' dreams and visions into reality, and we achieve this goal by offering quality services with sincerity, integrity, and pride. We offer a comprehensive array of renovation services including consultation, design, drawings, permit applications, and construction. For each of our projects, we collaborate closely with our client to get a keen understanding of their vision first. Then, our experts deliver skilled, knowledgeable, and reliable services that allow us to design and implement a residential or commercial renovation plan that transform that your space.
It's Canadoo's core values that allow us to be a leading home and commercial renovation specialist in Vancouver:
We prioritize our customers' wishes and visions.
We offer efficient and cost-effective services to enhance our customers' renovation investments.
We create healthy, safe, and relaxing spaces through renovation.
We are true to our word and deliver services that are organized and on time.
We attend to every detail.
We maintain open and close lines of communication with our customers.
We schedule our projects so each customer benefits from our undivided attention.
We conduct business with integrity and fairness for our clients and for our work.