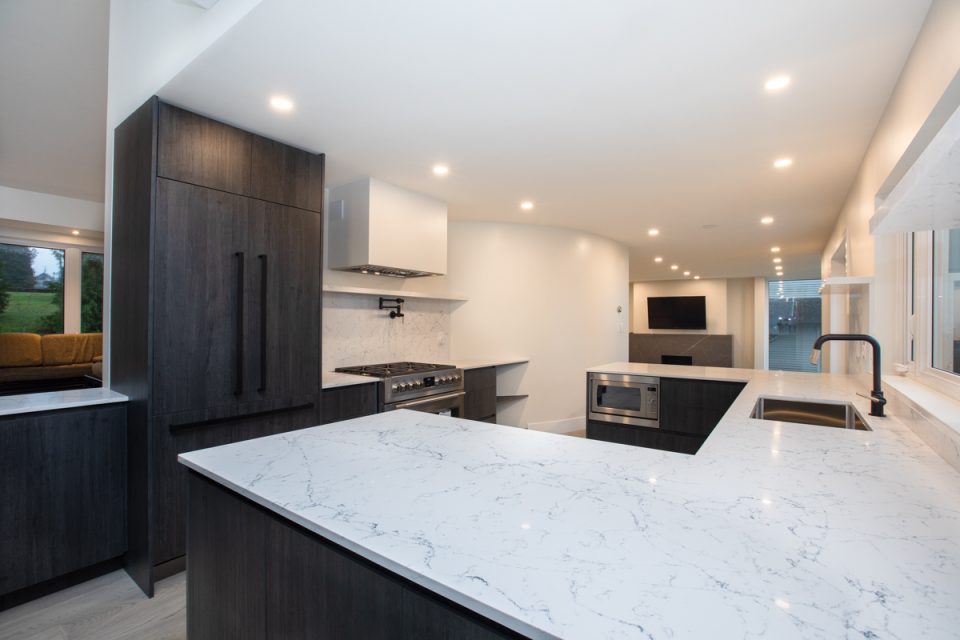 If you're asking the question, "how long does it take to remodel a kitchen?" and you're looking for a hard and fast answer, you've come to the wrong place.  In fact, many factors will influence the duration of a kitchen renovation and any contractor that quotes you a timeline upfront and without assessing your kitchen first is probably setting you up for disappointment.  Even the most carefully planned and organized kitchen remodel can face unpredictable delays.  So, with that in mind, let's have a closer look at what you need to consider and how you can estimate the timeline for your kitchen remodel.
Design Phase
The design phase of your kitchen remodel is essentially in your hands and you can take as much or as little time as you want.  Still, during this phase you want to plan for the finished renovation which includes considerations of appliances, flooring, countertops, paint, and lighting.  At some point in the design phase, you'll want to consult your contractor about your design decisions to ensure there aren't any structural or other pragmatic barriers to the renovation.
The design phase helps you determine the scope of your project and from start to finish usually requires at least a week – regardless on the size of the kitchen or the scope of the renovation. Keep in mind, a complete remodel where cabinets, appliances, and flooring are all removed will take longer than a smaller project that may only involve upgrading cabinets and paint, for example.
Once the design has been finalized, you'll collaborate with your contractor to purchase all the products and materials you'll need for your kitchen remodel. One thing to keep in mind is that it can take upwards of a month or two for all materials and fixtures to be ordered and delivered.
Demolition
After the design phase, you'll be ready to start your renovation. And, what's the first step in remodeling your kitchen? Demolition. Usually, demolition is a relatively quick process that requires only a few days. However, if major structural changes are needed (like moving a wall), demolition will often take longer. Ultimately, you want your demolition to be safe and there may be permits required if you are moving load-bearing structures. As such, demolition could take several days or even a couple months.
Utilities Installation
Again, depending on the scope of your kitchen remodel, you may need to reconfigure your plumbing, gas, and electricity. Major changes to kitchen layout will often require new utilities layout – expect this stage of your renovation to take one or two weeks.
Fixtures and Features
Installation of new lights, floors, fixtures, and other features will again vary depending on the scope of your remodel. Nevertheless, flooring, cabinets, and countertops can be assessed and installed within a week or two. Lighting will usually take at least a couple days, as will installation of backsplashes. During this phase, all the elements that make a kitchen a kitchen need to be managed and this phase can take from several weeks to a month or more.
Finishing
Finally, finishing carpentry involves your contractor attending to all the details and to wrap up any loose ends in your kitchen renovation.  This phase usually lasts a couple days. 
As you can see, the typical kitchen remodel can range from 3 to 6 months in duration; and that's providing everything goes right!