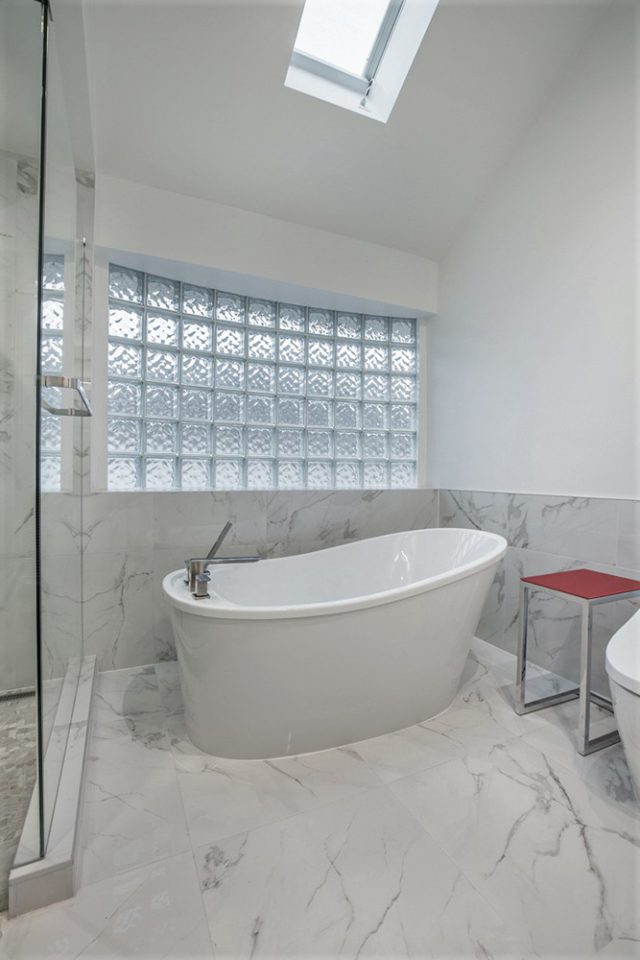 If you are considering remodeling a bathroom in your home, there are a lot of details to consider. Below, we will look at ten tips that will help you smooth out the process and end up with the bathroom you are imagining.
1. Do you really need to renovate?
Before you do anything else, ask yourself if this renovation is necessary and what you are trying to accomplish. If you just want an aesthetic lift, or if you are a renter, you modernize a bathroom space really effectively with inexpensive refinishing techniques. Do you need a whole new sink and vanity, or do you really just need fresh paint and cabinet pulls?
2. Make sure you and your contractor are on the same page.
So you want to go ahead with bathroom renovation. Make sure there is a clear plan for the remodel, with cost estimates, timelines, and contingencies spelled out. Don't assume that you and your contractor have an understanding about something unless you have clearly discussed it. And also – make sure you have a signed contract for the job.
3. Have a realistic idea of the cost of the project.
The worst outcome for a bathroom renovation is for your costs to spiral out of control during the work. Be aware that renovating your bathroom it likely to cost you more than you expect. Include this in your plan with your contractor: estimate of costs, and what to do if costs go up during the renovation process.
4. Do you want a built in or freestanding bathtub?
Freestanding bathtubs are very trendy right now, and they are often larger than built-in tubs. However, freestanding tubs are harder and messier to shower in, they are less well-insulated for long hot baths, and you have to be prepared to clean under and behind them!
5. Lighting matters!
It's easy to underestimate the complexity of lighting a bathroom, which is often a smaller space, possibly without windows, with mirrors that bounce light around. Consider if you need to use the mirror for makeup application or other tasks, and discuss your needs with your general contractor.
6. Consider outlet placement.
You don't want to have to fight your spouse for access to one single outlet when you are rushed in the morning, or find your electric toothbrush uncharged. Take stock of how many electric appliances you use regularly, and plan to accommodate them all with adequate, well-placed outlets.
7. Don't get overwhelmed by tile choices…
You want sturdy, hard-wearing, easy-to-clean tile in your bathroom, so a lot of the decorative tile types on offer aren't worth your time to consider. Focus on the following materials: porcelain/ceramic, glass, natural stone, and cement. This will narrow down the options you will have to choose from, and you can be more confident they will last.
8. … and don't forget about the grout.
We've all seen bathrooms with dingy, stained, mildewed grout. Bathrooms are high-moisture environments, so make sure you or your contractor are using an appropriate product for the environment and the tiles. Grout is primarily a structural product, but consider the visual impact, and how easy it will be to clean.
9. Pick the right toilet for your space.
It will feel silly to do, but when you are toilet shopping, try to sit on the toilets! There are lots of variations in height and shape, and you may want a compact one for a small space or a higher seat for a person with mobility issues.
10. Plan for storage from the get-go.
Bathrooms are generally smaller spaces that need to hold a lot of items, such as toiletries and towels. To reduce clutter, plan good storage into your bathroom during the renovation planning process. You will be thankful for it later! You can get by with a lot of shallow storage in a bathroom as well, which is easy to plan for.