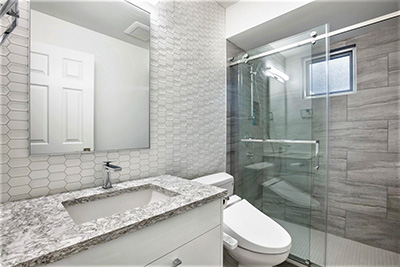 Are you sitting down? On average, a bathroom renovation can cost upwards of $10,000. Now that you've been sufficiently shocked, take a few deep breaths. Bathroom renovation costs can vary significantly depending on many factors including the size and scope of the project, your style, and obviously your budget. A minor renovation may cost as little as a few hundred dollars whereas a total overhaul with top-end features and fixtures can exceed $15,000. So then, how can you calculate your bathroom renovation cost?
First, you need to carefully plan your renovation. Whether you work with a general contractor or plan the renovation on your own, you need to account for every detail and carefully consider your budget before you begin a renovation. While it may seem that working with a contractor will add to the cost of your renovation, they can also save you money. Contractors will help guide your bathroom renovation project by asking the right questions and providing accurate cost estimates. In fact, a contractor's expertise can help you establish realistic expectations so that you get the bathroom you want for a price you can afford.
You bathroom renovation budget must include considerations of the size of your bathroom, the fixtures you need, materials involved, and whether floor plans or plumbing changes are necessary. Obviously, using your current fixtures and using your current floorplan will be the most affordable approach to a bathroom renovation, but if you want a new tub, cabinets, toilet, and countertops, the cost of your renovation can add up quickly. So then, what do you need to account for in developing a budget for your bathroom renovation?
A few features that may be included in your bathroom renovation are faucets, showers and bathtubs, flooring, countertops, cabinets, and lighting. Additionally, plumbing and electrical work, construction, permits, and labour costs must be incorporated. Of course, there is also a range of prices for each of these elements – on the low end of the price range a new bathtub may cost around $500-$800 installed whereas a high-end bathtub may cost upwards of $7,000 installed. Pricing for cabinets can also range from as little as $1,000 to more than $10,000. This all depends on the size of your bathroom, the quality of materials, and the labour fees involved.
Remember, you don't always need to choose the most expensive fixtures for your bathroom, so carefully consider your budget and your vision when planning your bathroom renovation and you'll likely find that you can remodel affordably. You can even consider cost-saving approaches such as refinishing your current cabinets, painting your bathtub, and basically picking and choosing where to make the big changes. By working with an experienced contractor, you can effectively plan your renovation so that you get a beautiful new bathroom no matter your budget.