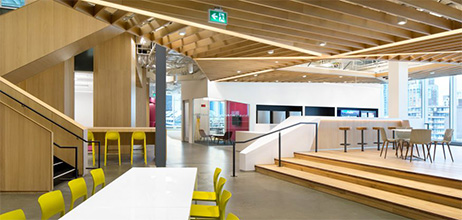 Whether you run a medical or dental practice, renovating your healthcare office can revitalize your space in such a way that staff and clients feel better.  Not only do healthcare office renovations help you to update décor, but they also offer the opportunity to improve on workflow and hygiene and generally make your health practice more efficient.  Nevertheless, a healthcare office renovation can be a time consuming and costly project so careful planning is paramount.  Here are some tips for planning a healthcare office renovation.
Consult Experts
If you're a doctor or a dentist, you probably can relate to the frustration when a client comes into your office with "expertise" they gained through Google. While it's important to do your own research so that you know what you want, working with design and renovation experts can guide you through your renovation so that you ultimately realize your renovation vision. Most renovation projects will involve designers (both architectural and interior), a general contractor, various tradespeople, and other professionals. When you are trying to decide which experts to hire for your project, always work with people that have experience with healthcare office renovations or remodels. Their expertise will help you create a calm and soothing space that is also functional.
Do your Research
As mentioned, you want to consult with experts but it's important to have your own vision that you can bring to your meetings with designers and builders.  Social media is often a good source for design inspiration, but you can also look into medical research to learn how to create the ideal healthcare environment.  For example, some colours will promote a sense of ease in clients through their soothing hues.  Additionally, you'll want to have some information about the kinds of wall coverings and furniture styles and fabrics that are durable but comfortable.  While your designer can guide you through these decisions, it will save time and money if you already  have a sense of your own preferences.
Prepare a Budget
Depending on the scope of your project, a healthcare office renovation can costs hundreds of thousands of dollars – particularly if you are investing in new medical equipment or making structural changes to the office layout. Carefully budgeting each stage of your renovation is necessary if you want to have a project that progresses seamlessly. In addition, you must always prepare for financial contingencies when working on any kind of renovation. Experts generally recommend a 10-15% cushion to your healthcare office renovation so that you'll always be sure to have funding to manage the unexpected.
Through careful planning and consultation with experts, a healthcare office renovation can be an effective way to create a healthier work environment that makes both clients and your staff more comfortable in your medical or dental practice.