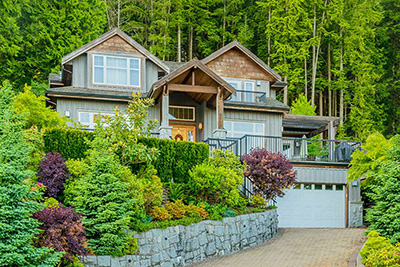 On a recent drive in the Vancouver area, I noticed a sign that boasted "Custom Home Builders!" The only problem with the sign is that it was parked on the lawn of a home that was clearly not custom. In fact, there were several homes in a row on the same street with identical facades – so at least from the outside, the only thing that appeared custom was the exterior paint. So then, what exactly makes a custom home and how do you choose a custom home builder in Vancouver?
First, let's define custom home. Ultimately, it should be one-of-a-kind. A custom home builder works closely with each individual client to build a home that is specific to that client's needs. While there may be some similarities between custom homes, the best custom home builders work on unique designs that meet your unique expectations. One thing to note when considering building a custom home, is they can be quite expensive, but you have complete control over every aspect of the build (if you want it).
How does one choose a custom home builder in Vancouver? Whatever industry or business, when you are hiring a professional, you should always start by asking friends, family, and colleagues for recommendations. Advice from trusted people in your life can help you assess important qualities in your builder. How is their communication style? Did they provide accurate quotes for the work? Were different aspects of the project completed on time and on budget? You can gather a lot of information by speaking to people you know about their experiences with custom home builders.
Still, if you don't have friends that can recommend custom home builders, you can also do a quick internet search and check for online reviews. Well-regarded contractors will have a website that outlines their professional services and should also include a portfolio of previous projects. After engaging in early information gathering, you can narrow your list of potential home builders to your top 3 candidates.
Next, you want to contact these candidates and ask for references to get a sense of the quality of their work and service. You not only want to hire a custom home builder with expertise, but also one that has a professional style that suits your needs. Communication is key because you'll be working with your contractor for quite some time. You'll also want to ensure that your builder can oversee the entire project from early planning phases through the finishing phases including landscaping.
Ultimately, you want to speak to each of your shortlisted candidates to determine if the quality of their work meets your expectations and that you can work effectively with that individual throughout the course of your home building project.