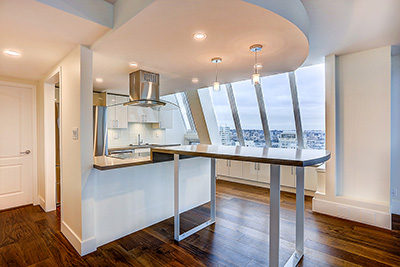 Setting a budget is possibly one of the most important aspects of a home renovation. Without a properly researched budget, costs can easily overrun what you can afford. More importantly, developing your budget can actually help you plan your house renovation. So, how do you budget a house renovation? Here are some tips.
Your Bottom Line
Ultimately, your budget will reflect what you can realistically afford – so start by asking yourself how much you have to spend. Whether you have money on hand, or you're seeking financing, knowing your bottom line will guide all your budgeting plans.
Wants versus Needs
You might be renovating because you really want a new décor, a new room, or a new vibe; or, you may be renovating because things are in dire straits. In most cases, a home renovation incorporates a little of both – your wants and your needs. Before budgeting, make a clear list of all the things you absolutely need to achieve in the renovation and a list of items that are desirable but not necessary.
Once you have a sense of how you want your home renovation to unfold, start by getting a ballpark figure of costs. For major upgrades to a bathroom, kitchen, or for additions, you're generally looking at around $150 per square foot. Working with a contractor or designer can help you nail down some of these more general figures.
Contractor Quotes
Unless you are a proficient DIY star, you'll want to start researching various contractors in your area and get quotes for the work you want done. Ask friends and colleagues for recommendations for contractors and do a bit of online research. Once you have at least a trio of contractors identified, ask for information about their recent work (pictures speak a thousand words!) and check their references too! After you have selected a contractor, add at least 15% to their quote for contingencies – there are always unexpected costs in home renovation projects. ALWAYS.
Adjusting your Budget
You've already clarified what is necessary from what is desirable, so if your budget does not fit the project you're considering, you'll need to trim the fat. You can start by seeking lower-cost alternatives, repurposing or keeping features/fixtures that are functional, or reducing the scope of your project. Your contractor should also be able to help you identify ways to reduce your costs.
Remember, home renovations are costly and time consuming – by setting a budget in advance, you'll find that a lot of the leg work gets done before your project begins. Additionally, carefully researching your costs helps you make the right decisions for you and your family and also facilitates a smooth and stress free home renovation.