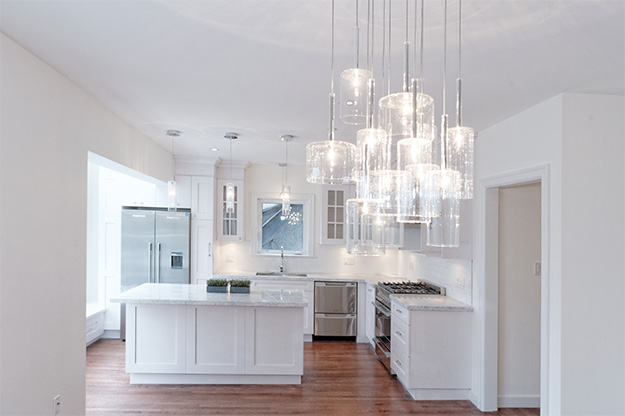 Renovating your home is an exciting project.  While there are many demands and even stressors, the finished project can make a significant impact on your quality of life and the value of your home.  With that in mind, these can be expensive renovations – depending on the scope of your renovation, your design choices, materials used, the size of your home, and even your geographical region, renovation costs can vary widely.  Particularly with rising materials costs since 2020, timing your project is critical.  How much does it cost to renovate a house?  There isn't a hard and fast answer to this question, but let's take a look at some of the factors that will influence your budget.
Common Factors that Influence Home Renovation Costs
Some of the main factors that impact how much your home renovation will cost are the age of your home, the scope and duration of the project, variable labour costs, and materials used.  More specifically, older home renovations can cost more especially when unexpected costs pop up.  Large-scale and longer-term projects will certainly cost more – more rooms renovated, more materials, more labour, etc.  Additionally, labour costs can vary not only geographically but by the skills and experience of the labourers; and similarly, if you're investing in top quality fixtures and finishes, expect costs to be higher.
How to Calculate Costs
As you can see, there are many factors that will influence the cost of your renovation; but you can certainly estimate costs based on your own goals.  Working with a professional contractor is a great way to answer the question, 'how much does it cost to renovate a house?'  A contractor has experience working with home renovation projects of various scopes and also with different materials and labourers.
Other than that, you can consider typical costs for different renovations. Let's take a closer look.
Basement renovations can have a significant impact on the resale value of your home. Whether you want to expand your living area, develop a rental suite, or add a bedroom – costs will vary. Basement renovations can cost between $10,000 and $50,000 depending on your goals.
Bathroom renovations can cost up to $20,000. Adding a bathroom will be more costly.
Kitchen renovations are popular and among the most expensive. If you're looking for new cabinets, appliances, fixtures, and lighting, kitchen renovations can cost $50,000 or more.
Bedroom and living room renovations usually cost a little less as there are fewer fixtures and features. The cost of bedroom renovations usually involves flooring, lighting, and wall covering costs. These renovations can cost $5,000 or more.
Remember, home renovations are a collaborative project that include you as the homeowner, you contractor, architects, designers, and labourers.  Ideally, you'll work with a skilled and experienced contractor that can help you get the home renovation of your dreams on a budget that works for you.