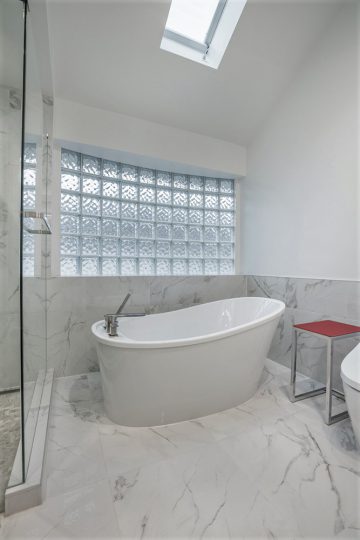 Home renovations can be expensive, and bathroom updates are often among the most costly.  From bathtubs and sinks to tiles and plumbing, there are many ways to update your residential bathroom.  If you go all in, you could easily spend a small fortune on renovating your bathroom; but, it's not necessary.  Indeed, bathroom renovations on a budget are possible – here are some tips to get you started.
Consider your Floor Plan
If you're looking to save money on your bathroom renovation, keep your fixtures in their current configuration.  Installing or changing plumbing to accommodate a new bathroom layout can be very price, so installing sinks, tubs, toilets, and showers in their original location is a great way to keep costs down.
Prioritize your Renovation
Planning and prioritizing your bathroom renovation is another easy way to manage your budget.  Before you start your renovation, gather detailed information about the cost of materials and prioritize which renovation items are most important to you.  You can still make a big impression with your renovation by focusing your budget on a single feature such as the vanity or shower tile.  In other words, you can splurge in one area or another while saving in others.  Some examples:
Use high quality tiles for a feature mosaic in the bathtub, but use more affordable tiles otherwise. 
Install an expensive new sink, but save on the countertops or vice-versa.
Install affordable cabinets but highlight them with stunning handles or knobs.
Accentuate your Style
Style doesn't need to be expensive and many bathroom renovations on a budget are successful because homeowners expressed their own, personal style. For example, contrasting wall and floor tiles can be aesthetically impressive, but you needn't go all out and buy the most expensive tiles. Replacing your vanity to reflect your style preferences (whether contemporary or classic) can revitalize your bathroom. You can even make a huge impact with a new coat of paint that includes a feature wall with attractive wallpaper or a contrasting colour. Let your imagination take the lead!
Be Flexible
While it pays to plan ahead with your bathroom renovation, it also pays to be flexible when it comes to fixtures and features.  Sometimes you have your heart set on a nickel faucet, but you find a chrome alternative that is almost as attractive and considerably less expensive.  A bit of flexibility in your bathroom renovation can help you keep your budget in check.
Accessories
Finally, sometimes a bathroom renovation is all about the accessories. A few inexpensive updates can be highlighted with economical accessories such as new towels, candles, and high-quality soap. Even less expensive updates to mirrors, cabinet hardware, and towel bars can transform your bathroom without depleting your bank account.